Kaggle TGS Salt Identification Challenge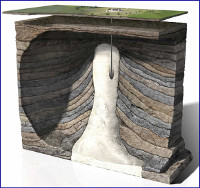 The goal of the challenge on Kaggle platform is pixel-wise semantic segmentation of salt bodies depicted on a seismic reflection images.
Here you can find a description of the 14th place solution by Argus team (Ruslan Baikulov, Nikolay Falaleev).
The final result of participation: the 14th place out of 3234 teams (top-0.5%, Kaggle gold megal).
Contents:
Sample results
Example of the whole mosaic post-processing. Green/blue - salt/empty regions from the train dataset; red - predicted mask; yellow - inpainted by the post-processing (used in the final submission).
The project code is available on Github.
The title image is from here.
Competition posts
24 Oct 2018
A gold medal solution of the TGS Salt Identification Challenge.
12 mins read
23 Oct 2018
Kaggle Challenge to segment salt deposits beneath the Earth's surface on seismic images.
1 min read